WHAT IS SMART HOME AUTOMATION?
There are many smart products available today, but it isn't until these devices work together in orchestration, that you experience the magic of a smart home.
Control4 coordinates all the technology in your home into complete, brilliant experiences – interactions that fit your lifestyle and are easy for your family to enjoy.  With one touch you can: dim the lights; play music; turn up the heat; lock the doors and arm the security system. 
How would you like to check in on your home from your smartphone, no matter where you are?  It's a smarter living experience that will leave you wondering how you ever lived without it.
Whether it is – 'Smart Lighting' – 'Smart Entertaining' – 'Safety & Security' or simply 'Comfort & Convenience' we can automate your home or small business to respond to your individual schedule.
Control4 Home Automation – We call it the New Normal…
Nissen Technologies are the authorised stockists of Control4 on the Sunshine Coast, providing products and solutions for small business and home automation.   Contact us for further details!
VIDEOS

DOWNLOAD YOUR 'SMART HOME' MAGAZINE HERE: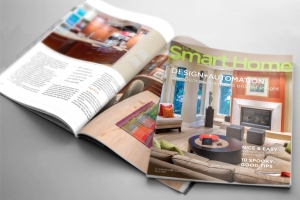 BROCHURES
BLOG
INDUSTRY 
AWARDS
2015 ELECTRONIC HOUSE HOME OF THE YEAR WINNER (7 category project Awards)
CONTROL4 recognised as TOP whole-house automation brand!